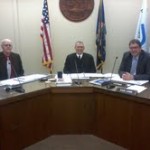 Owner of the Dara's Fast Lane businesses in Manhattan, Chris Darrah, came before the Riley County Commission during their Monday meeting.  Darrah recently spoke with numerous local retailers, and wanted to voice his concerns about high commercial property taxes in Manhattan.
Darrah, along with other business owners, including Radio Shack Owner- Frank Beer, are considering closing the doors on their businesses in the future if the commercial property tax trend continues.
Parkwood Hotel previously paid $7,000/year on property taxes and is now paying $156,000/year now, according to Darrah.
"I have two properties I want to develop now, and now I'm backing out because I don't see the sense in it", said  Darrah.
Commissioners were able to answer a few of Darrah's questions, and made comments on a few of his statements. They expressed gratitude to Darrah for coming in and voicing his opinions.
Anderson Estates is owned by Jason Anderson, of Randolph.  Anderson made a request to the Riley County commission to plat his land, which is located on both sides of Green Randolph Road.
County Planner, Bob Isaac presented the plat request to the commission, who unanimously approved the request.