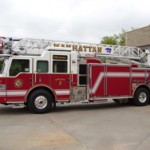 Riley County Police and Manhattan Fire Department investigators are looking into suspicious fires reported early Tuesday morning.
At approximately 2:10 AM, the two departments responded to a complaint of fire in the 800 block of Moro Street in Manhattan. When emergency crew arrived on scene they found a vehicle on fire.
Approximately 5 minutes later another report of fire was received and officers responded to a stairwell at an apartment complex located at 801 Moro Street. Within the next 45 minutes police and fire officials received a complaint of an additional fire in the 800 block of Laramie where another vehicle had been ignited.
There were no injuries reported.
In total a Nissan owned by Hector Pedroza, 28, Manhattan, a Toyota Camry which is owned by Ellyn Calvert, 21, of Manhattan, and a Ford F350 owned by Michael Petrie received approximately $26,000 worth of damage.
Police and Fire Investigators began an investigation into the suspicious fires and have determined that there was a high probability that they were incendiary in nature. This investigation is ongoing.
If you have information about this crime, contact the Riley County Police Department at 785-537-2112. You can also submit tips to the Manhattan Riley County Crime Stoppers.