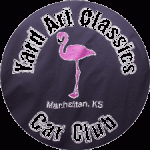 The Yard Arts Classics Car Club held its annual car show today day with car enthusiasts from all over the area gathering to show off their vehicles . Car Show Chair for the club Pat Caffey says event organizers expect around one hundred participants for this year's event, which is slightly higher than last year, when just under one hundred participated . There were a wide variety of cars on display, ranging across a span of years, makes, and models. Caffey says that all kinds were welcome and there were categories for every possible kind of vehicle. Those categories included best car, best truck, and best overall. There were also awards given for the top twenty cars made before 1988 and the top ten cars made in 1989 or sooner.
Mike Renfro was there showing off his car, a 1931 Ford Model A, though he called it a jalopy becuase it has been highly modified. Renfro says the car was built by an older farmer when he was a teenager back in the 1930s. He had been coming to the event for a good many years before this one, though this was only the second year he was showing this particular car.
A BBQ competition was held in conjunction with the car show, with prizes awarded to the best brisket, best chicken, and best pork.