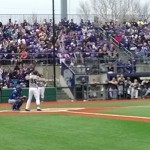 Nate Griep pitched eight-plus strong innings for Kansas State but Frank Duncan of Kansas was just a little bit better in a much-anticipated match-up between two of the best pitchers on the respective teams as the Jayhawks held on for a 2-1 over the Wildcats before 3,470 Sunday afternoon in Big 12 action at Tointon Family Stadium,
Tucker Tharp, one of the hitting heroes for KU in Saturday's 6-3 Jayhawk win greeted Griep in the second inning with a towering first-pitch home run to left field. Kansas added to its lead in the top of the fifth on a sacrifice fly by Ryan Pidhaichuk before the Wildcats got on the board in the bottom half.
The story for K-State on Sunday was even when something good happened it would then be quickly cancelled out. Ross Kivett laced a double down the right field line to score Blair DeBord who led off the frame with a single and advanced to third on Carter Yagi's double. However when Kivett doubled KU rightfielder Joven Afenir hustled to field the ball and threw quickly back to the infield, Yagi who had rounded third base was suddenly caught between third and home and ended up being thrown out back at third allowing the Jayhawks to hold on to their lead.
From that point on, it was the battle of the pitchers. Griep pitched into the ninth inning but was lifted in favor of Ethan Landon when the Jayhawks loaded the bases with nobody out. However, Landon was able to induce two ground balls and an infield fly to get out of the inning. Duncan who ended up throwing 128 pitches retired K-State in order in the bottom of the ninth to pick up the victory and give KU its first season-series win over the Wildcats since 2006.
Kansas State (18-13, 2-4) will next be in action on Tuesday when they host Wichita State. First pitch is set for 6:30 p.m.
Stay connected to all things KSU on the go just text EMAW to 88474
For full video wrap-ups, including analysis, highlights, coaches & player interviews of K-State Football & Basketball check out PowerCatGameday.com