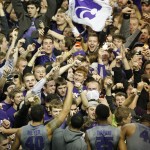 Marcus Foster scored 20 points while fighting through a sprained ankle and Kansas State overcame shaky free-throw shooting and a bending defense to defeat seventh-ranked Kansas 85-82 in overtime before a sellout crowd Monday night a Bramlage Coliseum.
Unlike the first meeting between the two teams in Lawrence last month, this was a knock-down drag-out fight between two fierce rivals and in the end the Wildcats were able to make enough plays to pull out the victory.
The teams played even for the game's first four and a half minutes before K-State used a 7-0 run to take a 13-6 lead with 13:13 left in the first half. After K-State led 16-10 midway through the half, the Jayhawks went on one of their patented runs outscoring the Wildcats 14-7 to take a 24-23 lead with four minutes left. From that point on it was an even battlef once again as the teams went into halftime tied at 29-29. KU missed a chance for a halftime lead when Perry Ellis missed a wide open dunk and D.J. Johnson blocked Brannen Greene's jumper as time expired.
The teams traded baskets for the first 2:45 of the second half before K-State built up a 46-37 lead with 13:26 left before KU ripped off five quick points to cut the lead to 46-42. Kansas cut their deficit down to 52-50 with 8:04 left before K-State used a 12-5 run to lead 64-55 with 4:27 remaining on the clock. It appeared the Wildcats had the game under control leading 68-61 but KU took advantage of Kansas State miscues to get right back into the contest. After Nino Williams missed an easy layup, Greene slammed home two points off an Offensive rebound and then after Shane Southwell turned the ball over on the in-bounds pass, Greene got a layup to make the score 68-65 with just 19 seconds ticked off the clock.
K-State's free throw shooting nearly cost them the game as Wesley Iwundu missed the front end of a one and one with 18 seconds left and KU tied the game on a tip-in by Andrew Wiggins off his own missed shot with four seconds to go in regulation, forcing overtime after K-State couldn't get off a final shot.
In the extra period, the Jayhawks grabbed the lead on a layup by Tarik Black, then K-State went right back in front 72-71 on a three-point basket by Will Spradling. Ellis made two free throws to give KU what turned out to be their final lead at 73-72 before K-State outscored KU 5-1 to lead 78-74 with 1:51 left. From there Iwundu knocked down a jumper with 1:14 to go, Thomas Gipson made one of two free throws followed by two free throws apiece by Foster and Spradling to salt the game away and allow the K-State students to storm the court once the final buzzer sounded.
Joining Foster in double figures was Spradling who as a senior may have played his final game against KU barring another meeting at next month's Big 12 Tournament in Kansas City. The Overland Park native poured in 15 points including three three-pointers. Omari Lawrence, D.J. Johnson and Thomas Gipson had nine points apiece. The Jayhawks had four players in double figures led by Ellis' 19 points followed by 16 from Wiggins, 13 by Nadir Tharpe and 10 by Greene. Both Ellis and Wiggins fouled out of the game in the final moments of overtime.
Monday's win was just the third all-time in Bramlage Coliseum for K-State over KU in 26 games and snapped a six-game losing streak overall in the series. After losing 31 straight games to Kansas from 1994-2005 the Wildcats since the 2005-06 season are now 4-17 against their arch-rivals 85 miles to the East.
Kansas State (17-7, 7-4) will have a few days off before their next game which is Saturday at Baylor. Tip-off in Waco is set for 6 p.m.
Stay connected to all things KSU on the go just text EMAW to 88474
For full video wrap-ups, including analysis, highlights, coaches & player interviews of K-State Football & Basketball check out PowerCatGameday.com