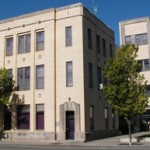 An estimated 180 jobs are headed to Manhattan with the Kansas Department of Agriculture's relocation. The groundbreaking ceremony will be held Friday and the building is projected to be complete by July 1st of 2014.
During Thursday's Riley County Commission meeting, Manhattan Area Chamber of Commerce President, Lyle Butler shared information about recent tours. Members of the Chamber, and local volunteers, have taken individuals on tours earlier this week who will possibly be moving to the area when the department is up and running. Schools, churches, retirement locations, etc are explored on the tours to provide information about the town. Butler mentioned, they cater the tours to the needs of the families.
Butler is currently working on a process that would send members of the chamber to the Topeka area to meet with more families, and end up bringing them back to Manhattan later for more tours.
————
Besides regular routine updates from department heads, budget requests were also on the agenda.
Riley County Clerk, Rich Vargo gave his tentative 2014 budget request for the clerk budget and the elections budget. Vargo mentioned in about five years, new voting machines will need to be purchased. These machines are no longer being made brand new, but are usually refurbished and sold again.
Vargo added, some locations are exploring their options and debating on returning to regular paper ballots.
————
Public Works Director, Leon Hobson shared the 2014 Public Works and Parks Budget request. In 2012 the budget was at $6,271,371. In 2013 it rose to $6,992,637. His request for this year was $6,954,393.
Some of Hobson's staff presented other budgets-including the solid waste budget and the benefit districts budget.
————
Other budgets will be presented this afternoon:
-Riley County Genealogical Society budget
-Downtown Manhattan Inc budget
-Russell T. Reitz Animal Shelter budget
-aTa Bus budget
-Riley County Council on Aging budget
-Riley County Soil Conservation District budget
-Indigent Defense Counsel budget