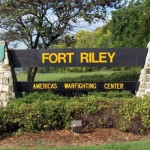 The 1st Armored Brigade Combat Team, 1st Infantry Division, is set to conduct a change of command ceremony Friday morning at 10 at the Cavalry Parade Field on Fort Riley.
The "Devil" Brigade will bid farewell to its current commander, Col. Michael Pappal, who led the unit during its 2010-2011 deployment to Baghdad in support of Operation New Dawn. While in Iraq, the brigade performed a mission with the Iraqi Security Forces, and was among the last American units in the Iraqi capital.
The brigade will welcome Col. John Reynolds as its new commander. Reynolds will assume command of the Devil Brigade as its Soldiers continue their reset cycle of integrating new personnel and acquiring and training on new weapons systems.
Maj. Gen. Paul E. Funk II, the 1st Inf. Div. and Fort Riley commanding general, and Cols. Pappal and Reynolds are scheduled to speak at the ceremony.