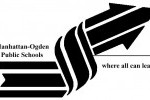 Updated Monday evening:
Services for Naomi McClendon will be held at Westview Community Church in Manhattan on Saturday at 7pm.
Updated 9 a.m. Monday:
Manhattan High school Principal Greg Hoyt put out an announcement to parents Monday morning,commenting on the weekend death of Naomi McClendon, a 2013 graduate of the high school with parents who teach there and a brother who is currently a sophomore.
Hoyt said in the announcement it is important for children to have as normal and routine a day as possible. He says crisis team met at 6:45 AM Monday morning to articulate a plan of action, and a school-wide announcement was made over the PA system. Counselors will be available throughout the day to assist students needing intensive support.
Hoyt added "Our thoughts are with this family today, and our hearts are very heavy this morning. Please know that our staff is doing everything that we can to ensure that your child and his/her needs are taken care of in school today."
###
(part of this story provided by azcentral.com with Gannett)
Arizona media sources are indicating an 18-year-old woman who has Manhattan connections died Sunday morning after she fell from the 10th-floor balcony of a student-housing apartment building near Arizona State University in Tempe.
azcentral.com with Gannett reports Tempe police officers and firefighters responded about 2:45 a.m. to reports of the woman's fall.
The woman, identified as Naomi McClendon of Kansas, was treated at the scene and taken to the hospital, where she died.
Michele Jones, USD 383 Director of Communications and School Safety has confirmed Naomi McClendon was the daughter of Nate McClendon, Director of Orchestras at MHS and Judy McClendon, a teacher in the language art department at MHS.  Jones tells KMAN "Our hearts are heavy with sadness."
Arizona authorities say McClendon did not live in the privately-owned apartment complex where the fall occurred, near ASU's Tempe campus that houses predominantly students.
It appears alcohol was a factor and investigators do not suspect foul play.
According to witness interviews and surveillance footage, McClendon had been at a party earlier and had been drinking.
McClendon reportedly went into an apartment on the 10th floor by herself for a short time and then went out to the balcony, where video footage shows her stumbling around. She got too close to the edge, lost her balance and fell over.
Police still are investigating the incident, including how much the woman drank and if she had any other substances in her system.