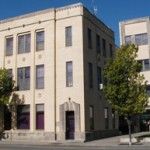 City and County Commissioners spent their joint meeting, Thursday afternoon, discussing various projects within their areas.  Various individuals provided information on current, and future, projects.
"Growth" seems to be the theme in Riley and Pottawatomie Counties, as well as the city of Manhattan.  Pottawatomie County Commissioner, Gary Yenzer mentioned USD 383 is currently looking to purchase land to build a new grade school, as over 160 students from Pottawatomie County are expected to attend the current school.  Yenzer said that is around three classrooms worth of students, and the facility does not have room for that many kids.
City of Manhattan Public Works Director, Dale Houdeshell mentioned the waterline project on Poyntz is 50 percent complete.  Once they reach the mall, they will turn around and go down the opposite side.  A similar process will take place on Bluemont, as the south side of the road is being worked on.  Once completed, they will flip and do the north side.  That project is expected to be done in October.
Riley County Commission Chair, Dave Lewis mentioned various sales tax projects currently taking place in the county, but mentioned their major concern is space.  Facilities are being stretched to their fullest potential as the county departments are running out of room.  City Commissioner, Karen McCulloh recommended possibly having KSU architecture students look into the space issues as well.
This meeting took place in the Riley County Commission Chambers.