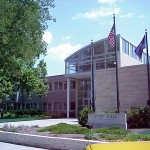 Future capital projects and partnerships was the only topic of discussion during Thursday's Riley County/Pottawatomie County/Manhattan City Commission meeting.
Riley County submitted the topic for the agenda, as they have been looking into options as far as facilities, and extra space. Courtrooms are of a main concern, as there is talk of adding another magistrate judge in the future.
Manhattan Mayor, John Matta commented "I like the idea of joining courts", during a discussion about combining city and county courts in one building.  It was brought up that this venture would also decrease public confusion, as there would be one central court location to go to.
Pottawatomie County Commission Chair, Pat Weixelman said, "I hate to say one place in more important than the other, as far as security, and forget about the other ones.  But I agree, the courts need the highest security.  I'd like to think we might have got lucky by doing this (building the new justice center in Westmoreland) during this time."  Weixelman was of course referring to the new concealed carry law, and the security measures that now must be implemented at public buildings.
Riley County Commission Chair, Dave Lewis replied, "I think we are all somewhat envious of that facility fitting into the timing".  City Commissioner, Usha Reddi added-"that was very forward thinking".
Besides courts, Riley County has also been looking into their lack of space for their departments.  The commission has explored options of putting all the departments together in one building.  They are also open to the thought of looking into vacant space around Manhattan that isn't being utilized.
City of Manhattan Mayor Pro Tem, Wynn Butler came up with various ideas of places with vacant space, including-Wharton Manor, the old jail, the community building, the Carnegie building, and  Mercy Regional Health Center.