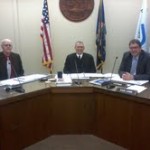 The Riley County commissioners wear numerous hats, as many serve on other boards and committees.  The commission also serves as the "Board of County Canvassers", which requires them to review the results, and approve them before the results are officially complete.
The city/school board election results were reviewed during Monday's county commission meeting, during the canvass.  County Clerk, Rich Vargo reported 68 provisional ballots were submitted during the election.  These ballots were reviewed by the election staff, and then run through the ballot machine.
The commission approved the election results.
A second work session was held regarding the county web site.  During a previous meeting, the work session ran over the allotted time, as many department heads had input on the project.
It was decided that the front page of the web site is definitely first priority, and will therefore be discussed during another work session.  Once the front page is complete, it will then be decided whether to further the project by addressing other pages.
Department Head Chair, Shelly Williams made a recommendation during the meeting, involving allowing department heads to accept credit cards.
Treasurer, Eileen King made the suggestion to keep the credit card software consistent throughout all the departments, and shared feedback about the system her department currently utilizes.
The commission approved the recommendation.