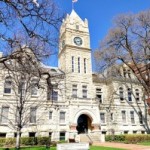 The trial began Tuesday in the case of the City of Manhattan vs. Jeff Gauthier, regarding a proposed amount of funding to be set aside in the city's budget each year for social services.
Six witnesses were called to the stand by the plaintiff's attorney-Ron Schneider. The first two witnesses, Jeff Gauthier and Nancy Golden, are members of the "Save Our Social Services"(SOS) organization. They answered questions regarding the petition they helped circulate in the hopes to enact an ordinance requiring two percent of the city's general fund budget to be used toward social services.
The third witness, was Co-Chair of SOS, Debbie Nuss. She assisted in helping to write the ordinance, and stated, although resolutions require a simpler process, ordinances are more permanent . Defense Attorney, Bill Frost handed a calculator to Nuss and had her calculate what two percent of the 2013 general fund would be. The calculation was $519,871. Frost claimed, even if you set aside a certain percentage of the budget each year, that doesn't guarantee the money would cover social services needs that year. Nuss said, the two percent was a projection on the organization's part. She did however state, "I can say that there WILL be a need for funding though".
The three remaining witnesses-Geri Simon, Mary Dulucy, and Barbara Withey are all current or former members of the Social Services Advisory Board. Simon commented on how the two percent figure was decided on. "Historically, funds allocated to social services were around two percent, so it seemed like a logical figure", said Simon.
City Finance Director, Bernie Hayen was the only witness requested by Frost.
When the trial resumed Tuesday afternoon, Judge John Bosch ruled against Jeff Gauthier and rejected the petition. Bosch said while the purpose of the proposed ordinance is to lock in social services to two percent of the city's budget, it would also lock the city to its current budget. He explained the city needs more flexibility when creating a yearly budget; and it would be fiscally irresponsible to guarantee a certain percentage rate for social services. He also said the proposed ordinance follows the plan already in place, and didn't think a change was necessary.