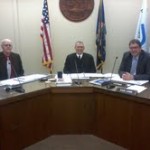 The first of two interlocal agreements was brought before the Riley County Commission during their Thursday meeting.  The agreement outlines the ability to share training opportunities with Fort Riley.
The commission approved to sign the document, but hope to actually sign it in a public setting along with Fort Riley representatives.
As far as the second agreement, County Counselor, Clancy Holeman explained that it shouldn't take as long as the first.  He mentioned it involves insurance, and Fort Riley is self-insured.
——————
New motor graders were approved by the commission some time ago, and bids have already been opened.  As far as financing the motor graders, there are three options though.
Budget and Finance Officer, Johnette Shepek shared the three financing options with the commission, which are listed below:
option 1-10 year lease with guarantee buyback-total cost before buyback- $414,488
option 2-finance purchase with temporary 10 year G.O. bond issuance- total cost before buyback $790,588
option 3-outright purchase-$660,000
Commissioner, Dave Lewis commented, "I think the choice is obvious".
The commission unanimously approved the third option.
——————-
Riley County Commissioners will not be in session on Monday, February 17th, due to the observance of President's Day.  The next commission meeting will be held Thursday, February 20th.