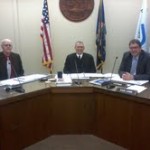 A tactical repeater was taken out of Aggieville, and was placed on the north side of Bill Snyder Family Stadium during the football season, and remained there for the duration of the season.  With that portion of the stadium undergoing renovations soon, Emergency Management Director, Pat Collins raised his concerns with Riley County Commissioners, during their Thursday meeting.
New screens and sound equipment can be expected for the stadium in the near future, as well as a few other minor construction projects.  Collins requested that a permanent repeater be placed on the north side of the stadium, as it seemed to work well this past year.
The commission approved a draft letter of support for this concept.  The commission also approved a state 911 GIS MOU agreement, regarding county geographical information.
——————–
Register of Deeds, Debbie Regester provided an update on the ongoing Senate Bill 298, that would eliminate the mortgage registration fee.
Commissioners have been to Topeka to stress their strong opposition, and approved to continue opposing the bill.
——————–
Other department head updates included a Riley County Police Department update from Director, Brad Schoen and a monthly financial report update from Treasurer, Eileen King.