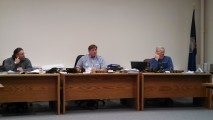 Though a few technical problems started off the conference call between Pottawatomie, Jackson, and Wabaunsee counties, the meeting soon got underway concerning the Juvenile Justice Board.
With the director of the board leaving, a new one will need to be chosen.  However, before that can be done, the board must have a few places filled.
The counties discussed a few specific spots and possibilities to fill them.  They also discussed having a representative from each county on board to have a more pro-active role in the decision of director.
Each county agreed to discuss and choose a representative over the next couple of weeks.
Gregg Webster, Zoning Administrator, came before the commission with a year-end report.  This consisted of the number of building permits for the county in 2013 and showed how that has increased over the past few years.
Among the 121 building permits, 98 to 100 of them were within the Hwy 24 corridor area, mainly in the Blue Township area and the St. George Township.
Lew Lowrey, Public Works Director, brought forward the 2014 Seal and Overlay projects.  Among those, there will be 7.5 miles of overlay and 34.4 miles of chip and seal to do within the county.
Leslie Campbell, Health Director, requested the commission approve the formal request to hire for an open position.
A grant application request was also made to help build a new stations for Fire Station 4 in Wheaton.
The commission approved the request to let Robert Reece, County Administrator, sign the application.
The old courthouse may be seeing some new occupants here in the near future as the Bruce Brazzle, Fire Supervisor, has been looking at the space open to move his department especially with the consolidation.
The commission did think the idea was a good one.  Pat Weixelman, commissioner, asked about the costs associated with the move.  Reece agreed to check into the issue.