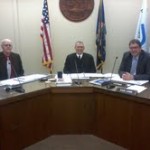 It was decided, during a previous Riley County Commission meeting, to not exempt all of the county buildings from the concealed carry bill, but rather just some of them. The commission came up with a list of buildings to exempt-including the courthouse, as there is a high volume of people entering and leaving the building on a day-to-day basis.
During Monday's commission meeting, County Counselor, Clancy Holeman presented the letter invoking concealed carry exemption on those selected county buildings.
Holeman mentioned various concerns department heads brought up. The main concern seemed to be whether department heads should or should not have the authority to decide if their departments can carry outside of county buildings, while they are still on the job. According to Holeman, the department heads came to a consensus that they wish to have a set statuate in place for all departments, instead of deciding for each department.
County Commissioner, Robert Boyd had one small change for the exemption letter, as the public works building was listed as a "shop" buildings. Boyd stated, this could become confusing as their are many buildings on the public works site, and it's best to be more descriptive. It was decided "shop" will be changed to "Public Works Administration Building".
The commission unanimously approved the letter, but will sign it once the revised version is written up.
—————
An issue regarding re-employment policies was brought to Human Resource Manager, Cindy Volanti's attention recently.
Volanti explained to the commission, there is currently an "unwritten policy" that a previously employed county worker can account for previous years of service if they choose to return as a county employee again.
The proposed policy change would make it an official policy. The commission did approve the change.
—————
Employee of the Month parking stalls were discussed months ago by the county commission. The subject was yet again brought to the commissions attention Monday.
Other options were explored in previous discussions, such as a paid day off of work. During a recent department head meeting, the subject was voted on by the department heads and the REACH Committee.
Department heads were in support of the parking stall, but not the paid day off. REACH was in support of both options.
The commission did not feel as if the paid day off was a viable prize for an employee of the month, but did approve of the parking stall concept.
————–
Upcoming events, such as the Riley County Fair Apple Pie Baking Contest and the County Historical Society Quarterly Dinner meeting, were brought up during the meeting's press conference.
The commission also heard updates on the downtown streetscaping process, currently taking place on Poyntz, and harvest.