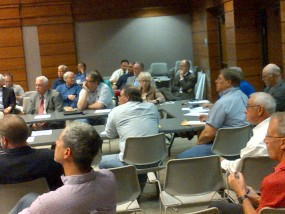 "If it doesn't go right and there is a problem, there is going to be a rub here.  There hasn't been any rubs for quite awhile, things have been going pretty good."
This was a statement made by Pottawatomie Commissioner, Pat Weixelman during the joint Riley County, Pottawatomie County, and City of Manhattan meeting.  The meeting focused on three topics, one of which involved an update on the Blue Township Water and Sewer Project.
Manhattan City Manager, Ron Fehr provided a background on how things have went, and shared how things will evolve coming up.  He said the project was split into two phases  The first phase is to build an elevated storage tank and the second is to extend the water line structure east to Excel Road, north on Excel to the pump station, and from the pump station to the tower.
Pottawatomie County Commissioner, Pat Weixelman voiced some initial concerns with the Eagle's Landing water connection, and shared several other opinions, questions and comments.
Weixelman referenced a letter that was sent to the county by the City of Manhattan.  He said it was a "nasty" letter, and he would prefer to get the original letters from KDHE and EPA when they are sent to the city.  Weixelman asked Fehr about the ten year agreement he thought there was between Pottawatomie County and the city.
Fehr said there is a ten year agreement just like Weixelman thought.  But within the agreement, Fehr said is states that the county has to keep the same standards as the city, and that hasn't happened.  Although Fehr stood his ground on this matter, he did admit that the city could communicate better with the county.
Pottawatomie County Commissioner, Stan Hartwich said he agrees with Weixelman.  "The last thing we want to do is get you in trouble.  We try to be good neighbors and I'd hope to see that in return".
Weixelman also mentioned they intend to hire a inspector for the county, and hope the city can utilize the individual they hire for projects such as this.  Fehr agreed to consider that idea.
—————
The other two items on the agenda involved an overview of the Manhattan Area 2035 comprehensive plan, and an invitation to the Riley County Board of Health meeting on Tuesday, May 20th.