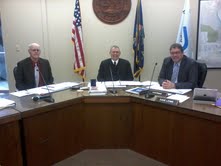 A request was made by Riley County Health Department Director, Brenda Nickel regarding a "Health Department Culture of Quality Agency Professional Development" training opportunity, during Monday's county commission meeting.
Nickel began by sharing some of the past employment trends within the department, including the turnover rate.  Currently there are 38 staff members employed at the department.
The training sessions are designed to help program managers through workshops for quality improvement training.
As far as costs for the training, Nickel calculated the total cost to be just over $8,000 for all of the staff members.
Commissioners raised several concerns with the training.  Commission Chair, Robert Boyd commented, "I'm a little concerned that we are taking on too much.  I'd like to focus on the results of the public health assessment.  I'd like to see what that has to say".
Commissioner, Dave Lewis had similar feelings toward the training proposal.  "If you feel like you have to go to something like this, there is a malfunction within the operations, and I think things are being fixed by good direction from the health department director", Lewis stated.
Lewis mentioned he has never seen a request of this magnitude from a department head, as far as expense, in his three and a half years in office.  He added that if the request were approved, it could possibly start a trend among other department head requests as well.
The commission chose to deny the request for the time being, but recommended other ideas to research the training further or re-visit this request next year.  They did however, commend Nickel for wanting to continue improvements in the department.
———————-
During the meeting's press conference, Emergency Management Director, Pat Collins commented on the recent fatal boating accident at Tuttle Cove.  He commended the crews, and the spectators that witnessed the accident, for assisting with the incident.
Public Works Director, Leon Hobson mentioned this week is National Public Works Week, County Extension Director, Jennifer Wilson advertised a medicare basics class in June and the health department's Katy Oestman shared details about the USD 383 summer feeding program.