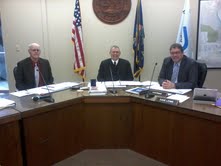 The first item on Monday morning's Riley County Commission agenda involved reorganization of the commission.
Previously, the commission chair was Commissioner, Dave Lewis and the vice chair was Commissioner, Robert Boyd. As of Monday, Commissioner Boyd became the chair, and Commissioner Ron Wells became the vice chair.
————–
Proximity locks have been needed at the Alvan D. Johnson Law Enforcement Center for over a decade now, according to Public Works Director, Leon Hobson. Hobson provided a background of the project and mentioned the last locks were put into place in 1998.
Minor changes have taken place since that time, but the Riley County Police Department came to Hobson last year for the complete new lock project.
The commission appeared to agree the need for the project is there, but had some discussion on which fund to utilize. As this is a capitol improvement project, the commission discussed taking it out of the CIP fund.
Budget and Finance Officer, Johnette Shepek mentioned there are also additional funds in the police department fund that could be used as well.
Ultimately, the commission unanimously approved the project, and will use CIP money.
————–
Other items were approved during the meeting, including a Midwest Medical Waste location update and a backhoe purchase.