Friday evening, parents, teachers and those interested in learning about Common Core Standards were out in force in Wamego.   Kansans Against Common Core and the Republican Women sponsored the event.   Dr. Walt Chappell, former District 8 Wichita area, member of the Kansas State Board of Education, focused on the Claims verses Facts of Common Core, and how the State can get out of it.
One of the claims is the United States Department of Education is not mandating a national curriculum or national assessment, when in fact, to receive a No Child Left Behind (NCLB) waiver, each state must adopt the Common Core Standards (CCS) 'word for word' and have each student take national tests.   He said the "teach-to-the test" approach forced on teachers by NCLB to show Annual Yearly Progress for each school has been devastating.  Other subjects, such as Science, History and Geography, have been shortened just to get the students ready for the reading and math state assessments.  He said, CCS will be NCLB on steroids!  (Kansas received a NCLB waiver)
According to Chappell, a few private companies such as Microsoft, Pearson and McGraw-Hill are funding much of the development and promotion of the CCS plus paying for the regional conferences to indoctrinate State Board members because they stand to rake in billions of our tax dollars in profits once all schools much purchase their products and/or testing and data analysis services.
Chappell said if CCS is implemented, there will be NO local or state control of what and how our students are taught.  He said there would be NO need for school board or State legislators if all the decisions are made by corporations and Federal bureaucrats behind closed doors? He said there is no longitudinal research data to show that the CCS are any better than the previous state reading and math standards or that student achievement will improve under the "new" standards?
Chappell noted there was House Bill 2621 with an attachment to stop Common Core, but was taken out by the House Sub Committee before it went to the Senate.  The Senate amended the appropriations House Bill 2506 to include the Common Core stoppage.  The Legislature is due to vote on these bills on April 30th.  If the bill is killed in this session, it will be 'start-over' in next session.
Chappell  said the only way to stop Common Core is for parents and the public to contact their state representatives until something gets done.   He encouraged everyone in attendance to e-mail their representatives before the upcoming vote,  and to  ask for their support in stopping Common Core.   He said there are several states that have been successful in stopping the implementation of Common Core.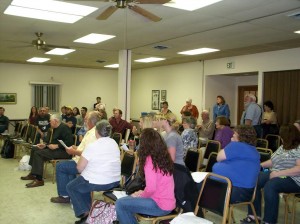 ————-
The data collection connected to Common Core brought out an IT expert.  At the Friday meeting organized by Kansans Against Common Core, Computer Consultant, Paul Schwartz said he didn't know anything about Common Core until September, and what he learned about the Data Collection component of Common Core scared him.
He said under the criteria of the Common Core Standards, school districts are required to gather over 400 required fields of data on every child from pre-school through age 20.  Once this data is collected, it was sent to a company called 'In Bloom', which was started by Microsoft founder Bill Gates.   He added that because' In Bloom' was hacked recently, it is no longer in business.
Schwartz said Kansas' data collection is done using best practices and due diligence.  The program
is called KIDS (Kansas Individual Data on Kids) and has 93 required fields of data.   He said the problem is the collection, and how the information is being used.  He said the data on kids under 18 years of age is the most valuable data out there, and we need better protection of the data.