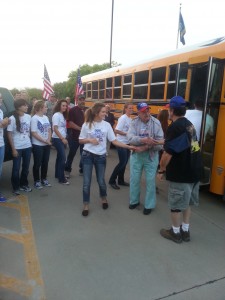 A good number of community members bearing American Flags as well as flags from all branches of the United States military lined the street in front of Wamego high school to welcome home a group of veterans who had traveled to Washington D.C. as part of the honor flight program.  When the bus carrying the group entered the lot in front of the school, they were greeted by the cheering crowd and spirited music provided by the school's band.
The group visited such memorials as the world war two and Vietnam war memorials, as well as Arlington national cemetery. Corkey Schumacher, who made the trip last year, but was unable to this year, said that as a veteran of the Korean war, his visit to that particular monument was very special. He made it out there to greet those returning from this year's trip because he thought it was important to show his support in any way possible.
Merril Bestwick did make the trip this year and he expressed surprise at how the group was treated saying he felt really special, and that everywhere they went, they were treated with the utmost respect. He was especially grateful for his student guide Laura Furney. Furney, a graduated senior from Wamego high says that it was an honor for her to even make the trip, and that Bestwick did his best to "keep her in shape".  Each vet had a student guide with them to assist them in various ways, and each were selected to go on the trip based on an essay they had written earlier in the school year.
This was the first time that the high school had acted as a hub for the program, and it served veterans who lived between Topeka and Junction City. Since this was the first time for this location, turnout for the trip was not as high as expected, but as word gets out, more vets are expected to take the trip in subsequent outings.