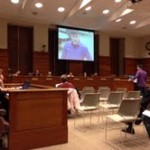 A local bar owner expressed concern to Riley County Law Board members Monday regarding the Riley County Police Department, citing several instances of intimidation he says have occurred in the last week, since he spoke at a special law board meeting as part of a group calling itself "Citizens Assuring Tranparency."
Rusty Wilson talked about noon bar checks, a warning on a rarely enforced no-smoking ordinance,and alleged picture taking of him by an off-duty policeman since that special meeting.
He maintains he "can't sit back and be shoved around any more than he has been," and said he just wanted to be treated fairly.
RCPD Police Director Brad Schoen went through each of Wilson's points with findings he and his staff had made regarding the allegations,  saying these types of complaints have been around for years. He says nothing has changed and that being fair and equitable in treatment is a priority.
One case apparently involved smoking near a door of Wilson's establishment, with Lt. Steve Boyda recounting the case as he remembered it. He says he was concerned as a group of people near the door were smoking and had open containers, without a bar employee present as is normally expected. And Lt. Boyda added the hope is for bars to keep an eye on what's going on near their businesses and at least just try. And he says he did not write a ticket, just gave a warning. 
 "Citizens Assuring Transparency"  has a formal presentation planned for April's Law board meeting–and has been behind proposed legislation that woud require the election of the RCPD Police Director
Law Board member Wynn Butler added while it seems RCPD is doing the right thing, perceptions matter too. And he cautioned against that perception of  overzealous enforcement.
Another individual speaking to the law board was Steve Tucker, who currently works with RCPD, but who spent several years as a sheriff in Greenlee County, Arizona. And he had praise for RCPD's way of doing things. Tucker also warned of political pressures elected officials are subject to, which often take concentration away from the job they are supposed to be doing.
Normally the budget would be a major part of discussion at a Riley County Law Board meeting, but the 18.9 million dollar proposal for 2015 was passed for publication unanimously and with very little discussion.  
The budget calls for two additional dispatcher postitions amounting to a 24 hour day, an information tech, a 1.4 percent cost of living allowance, and a move of crime analyst to contract.
A change in the handling of special events by Riley County police was proposed at Monday's law board meeting, regarding charging those whose special events require more than a couple of officers present for certain groups. The matter was tabled, with hopes to have a legal opinion by law board counsel Mike Gillespie.
 Assistant Polie Director John Doehling explained the reason for consideration is the increased amount of such events, which include parades, bicycles, and road races or walks. 
 Law Board members Monday also heard another update on Fake Patty's day results,  recognized National Telecommunications week, which is coming up in April, and heard an update from the Community Advisory Board.