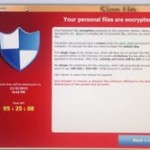 There's a new computer virus out there, Crypto Locker and it's impacting several businesses in Manhattan. Vernon Turner of Turner Consulting Services tells KMAN just opening a simple attachment on your email can get you in trouble. This virus is a relatively new spin on an old extortion scam.
Turner explains how after infection with the virus the Malware then gets to work encrypting the victim's files. Once those files are encrypted, the victim is presented with an screen image demanding money with a Seventy Two hour window to pay up or he or she will not be able to use those files. Demanded sums vary from $100 up to $700 based on the version of the virus you are infected with.
Some of the emails have a subject line of "past due invoice," which contains an attached zip file file with the malicious code disguised as a PDF invoice. They may even contain a legitimate email address like admin@ksu.edu which was used to dupe several users on the Kansas State campus.
While it may be too late for some of the people impacted by this damaging infection, Turner suggests best practices of never opening an attachment from someone you arent expecting one from and a backup regiment that is backing up files regularly. These two suggestions could help to limit the chance of infection and the damage the loss of your files will have to your business operations. Turner says infected email and attachment should be deleted, and recommends that a machine should be completely wiped, the operating system reinstalled and data restored to ensure it is clean and virus free. The consultant says this is probably a global attack, and those with problems need to report this extortion attempt to area law enforcement so if the malicious code writers are found, they can be prosecuted.
Raubin Pierce contributed to this story.