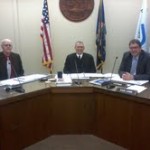 Some portions of the newly passed concealed carry bill are still a bit fuzzy according to Riley County Counselor, Clancy Holeman. During Monday's county commission meeting, Holeman presented the short term concealed carry exemption letter.
Holeman recommended sending the exemption letter in before July 1st, if they choose to exempt some or all of the county buildings, as the statute is unclear of some requirements. Holeman added, the Attorney General has even been unclear about parts of the bill. "I don't mean that as a criticism, they're in the dark just as much as anyone else", Holeman said.
Of the 44 county buildings, the commission agreed the courthouse is the most important in terms of making sure it is secure, as there is a large amount of public interaction on a daily basis.
The commission approved and signed the letter.
————-
Riley County's budget process began last month with the beginning of budget requests from department heads and various organizations. County Clerk, Rich Vargo shared the 2013 certified assessed evaluation for the county's budget- $552,389,020 which is a 4.85% increase from 2012.
————-
The commission room was packed for the presentation of Betty Gassman's retirement plaque. Numerous county workers attended this portion of the meeting, as Gassman has served in the public works and treasurers departments.
Gassman served the county for 22 years.