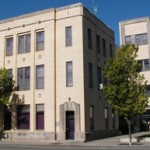 Temporary concealed carry signs have been posted at some of the Riley County buildings. The current signs feature a clear background, but Public Works Director, Leon Hobson mentioned, during Thursday's Riley County Commission meeting, the new signs will be on a white background.
Commission Chair, Dave Lewis shared a list of important county buildings, in terms of concealed carry exemption, that he made. The courthouse, the commission building, Carnegie, and the shop site were a few listed buildings.
County Counselor, Clancy Holeman presented a memo, which will be distributed to employees, regarding concealed carry. After reviewing the memo for a short time, the commission approved it.
—————–
Around 500 4-H members, adults and teen leaders attended camp at Rock Springs this past week. County Extension Director, Jennifer Wilson mentioned Riley County, by far, had the best attendance and participation out of the six counties in attendance.
Wilson also utilized her time to mention the county fair will be July 25th-29th. The 4-H Extension department will move out to the Clover Room at Pottorf Hall in Cico Park earlier than usual, as they are getting new carpet and are painting. They will move to the Clover Room July 17th and will return to their normal location August 1st.
—————–
Assistant County Counselor, Craig Cox shared the benefit districts assessments publication. Cox mentioned, some districts are different than others in terms of how things are done. While some make decisions as a whole, other districts do things by lot.
The commission approved the publication.
—————–
Information Technology/GIS Director, Robert Nall gave a staff update and shared details on CASA Network Support. Budget and Finance Officer, Johnette Shepek commented on the current phone and internet service plans in place. Shepek stated, "there's some inconsistencies on which departments we do and do not charge for service. Extension's not charged. None of the outside agencies the commission funds are charged for internet." Shepek wanted to make sure phone and internet were kept separate for this reason.
The commission approved to bill back phone service, but not internet.
——————
The commission will begin their first budget work session during the afternoon portion of their meeting.