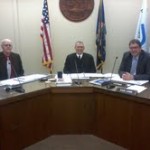 Public hearings for six Riley County benefit districts were held during Thursday's county commission meeting.  Each hearing was held individually for re-paving, starting with Lakeside Heights sewer district.
This district, along with the next two-Stony Brook and Vista Acres, did not take long, as there were no individuals from the public that objected to the proposed assessments.  All three of these districts wished to have their assessments done on a per owner basis, which the commission approved.
Terra Heights street paving hearing was held next, and an individual living within the district raised some concern.  Robert Brandenburg previously owned two lots within the district, and has since had them re-platted into one lot.
Assistant County Counselor, Craig Cox, who was leading the hearings, and Brandenburg seemed to have different dates on when the request for the re-plat was submitted.  After comparing dates, Cox believed Brandenburg's date was more accurate, and therefore recommended the commission only charge him for his one combined lot.
The commission approved this request, and approved Terra Heights be assessed on a per lot basis.
Lakeside and Cliffside are two separate districts, but wished to be combined together for assessment.  This is in conjunction with a petition circulated by Cliffside resident, Bill Kennedy.
Kennedy was present at the meeting to give his input, as he has lived within the district the longest.  He wanted to assure that the assessment for the re-paving goes much smoother than the previous paving, as he remembers one of his neighbors leaving in rage as a result of the project.
Two properties located on the end of one of the roads in the Lakeside district are not included in the district, as the pavement ends before their properties.  Kennedy also expressed concern about this, as they must use the districts road to access their home, so they should therefore be a part of the district.  The commission and Cox did mention the only way to add people to a request is by those individuals own request to join.  Kennedy stated, "a can of worms just got opened.  I'm going to go ask them to join myself".
As far as adding these two properties into the assessment and paving project, County Clerk, Rich Vargo commented, "there is no way to include them in this process.  To include them in the district and pave that road, it would be a completely different project".
The commission did approve the paving and assessments to be done in a combined fashion.