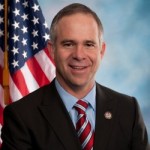 Contrary to other media reports in the last day, funding for the National Bio and Agri Defense facility to be located in Manhattan is alive and well. U-S Congressman Tim Huelskamp of Kansas tells KMAN a favorable vote came in Thursday morning, with the House passing an appropriations bill providing more than 400 milllion dollars for the facility. While not what the President had requested, Huelskamp still describes the amount as a "significant sum."
Huelskamp added during an interview with KMAN that means the project can continue.
The Congressman says as far as he knows the Department of Homeland Security is still very supportive of the project. Although he admits it's a multi-year project and will continue to have some battles in the House. Huelskamp stresses there have been some big gains on the project in recent months.
Huelskamp reiterated his support for the facility funding provision, with amendments to the bill still under debate.
And Huelskamp isn't too woried about the needed funding.
While some reports came out Wednesday that a veto was being threatened by the President to an appropriation bill including NBAF funding, Huelskamp says NBAF still enjoys the support of the Obama administration, with not event Democrat house members taking the veto threat seriously.