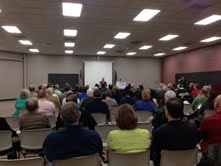 More than 100 people showed up for a Town Hall in Manhattan, hosted by First District U-S Congressman Tim Huelskamp of Kansas. Questions regarding healthcare, minimum wage laws, the farm bill, gun control, traditional marriage, and the conflict in the Ukraine were just some of those asked by the large crowd.
Some of the comments drew applause–as did a supportive comment from Bill Lockhart of the Manhattan area, who told the Congressman "I would say for you to stick to your principals and do what's right," indicating he shouldn't worry about others who ar critical as "they aren't going to vote for you anyway and to heck with them." 
Carolyn Elliott, describing herself as a United States citizen, told the Congressman and the crowd this isn't the country she grew up in, adding "it's changed and I don't like the change". While she applauded him for doing his work she encouraged him to continually listen  to his voters as to what they would like him to do.
Others expressing concerns about the "us versus them" rhetoric was David Kreller, also of Manhattan, who asked for more consensus. Huelskamp did mention a couple of areas where the two sides have come together, including fourth amendment rights, and the importance of fatherhood.
But he adds there's still plenty of dissension when it comes to health care changes–pointing to an example in Salina where a company changed its policies just a few days before those changes were suspended. 
While many in the audience seemed supportive of the Congressman, there were some pointed questions from one individual who had been pleased with the health care changes, another regarding discrimination against gay couples, and one wanting to know how Huelskamp could represent agriculture after being forced off the agriculture committee. Huelskamp responded he was kicked off the committee because he wouldn't do what he was told.  
Prior to the Town Hall, Huelskamp told reporters while frustrated with increased regulations and constant changes in healthcare requirements, he is pleased about a couple of things that have happened in Washington D.C. One of those is apparent final funding for the National Bio and Agri Defense Facility to be built in Manhattan. Huelskamp indicates he's comfortable with the NBAF funding in the budget this time around, having voted against it before due to concerns with other aspects of the budget bill.
And Huelskamp told reporters  that folks in Washington need to quit worrying about the next election, and need to instead talk about the next generation and where the jobs are.