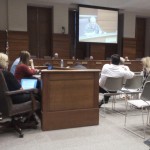 While still not official, Riley County Law Board members seem to be close to a consensus on the 2014 Riley county police department budget. The group held a special meeting Thursday night, with a budget presented by Director Brad Schoen well-received by the group.
Vice-Chair Dave Lewis admits the meeting was in his words "less contentious" than what he'd anticipated. But he says that's due to the department's really good job of finding savings in a variety of areas, including health insurance. There was a request for one custodial position in the new budget.
Board member Rich Jankovich agrees with Lewis there was pretty good consensus among the board, which is comprised of city and county officials.
 Meanwhile, Director Schoen has issued a statement, saying "RCPD understands the fiscal pressure that local governments have been under for the past several years and was pleased to be able to present to the Law Board for adoption, a budget proposal that results in no mill levy increase for either the city or the county in 2014."
The board meets again Monday, with the budget once again on the agenda.