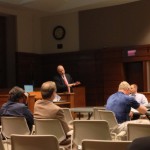 At a joint meeting between Manhattan City Commissioners and Riley County Commissioners on Thursday, the Army Corps of Engineers for the Kansas City Region went over some recent studies they conducted concerning the levee surrounding the Manhattan Community.
Chief of Planning, John Grothaus, showed commissioners various flood plain maps including a 25 year, 50 year, 100 year, 200 year, 300 year, and 500 year flood plain maps. The maps showed considerably larger areas vulnerable to flood along the  Big Blue River segment, which spans from the right bank of the Big Blue River on Casement Road to the Kansas River Confluence, compared to the Kansas River Segment, which spans from the left bank of the Big Blue River Confluence to Wildcat Creek.
Discussion of raising the levee continued. Grothaus recommended the levee be raised more so along the Big Blue River Segment than the Kansas River Segment. Grothaus also went over details regarding a levee rasing plan which would cost around 18 million dollars.
Grothaus also stated, if the project was approved, construction could begin by 2017.