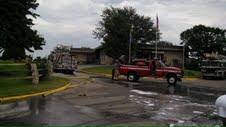 Update: More information has emerged regarding a fire near the Manhattan Country Club.
A brush fire near the Manhattan country club Monday afternoon is described as stubborn by Manhattan Fire Department officials.
Firefighters were dispatched shortly after 2:30 to the Country Club located at 1531 North 10th Street for a report of a large outside fire. Upon arrival, crews found a large brush fire that was surrounded by trees, near the center of the golf course. The brush on fire was on the side of a hill, and was in an area used by the Country Club for dumping tree debris for many years. The terrain and trees presented access problems as well as there was no water available for fighting the fire.
At the height of the fire, five fire apparatus, six support vehicles and 30 firefighters from Manhattan Fire Department responded, with units remaining on scene throughout the night to control flare ups. Riley County Fire Department assisted with seven fire apparatus and 16 personnel. Riley County EMS was on scene to provide rehabilitation to firefighters working in the heat. A backhoe was brought to the scene to pull apart the burning debris.
There was no fire loss associated with the brush that was on fire, but several trees on the golf course were destroyed. The golf course also sustained damage from the firefighting apparatus as crews gained access to the area. The cause of the fire is under investigation.
####
The Manhattan Fire Department is at the scene of what is described as a "pretty large brush fire" Monday afternoon, in the east portion of the Manhattan Country Club property. Deputy Chief Ryan Almes tells KMAN there does not appear to be any threat to buildings or people, but he advises motorists to avoid the country club area. Specifically, Almes asks that motorists stay away from the 10th Street route up to the country club, as fire department vehicles are currently using that route.
KMAN's Norma Dunning is on scene and reported the cause of the fire is undetermined. She also reported the entrance to the country club has been completely blocked off.
Almes says he will continue to provide details as more information becomes available.