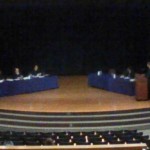 Judges from the Kansas Court of Appeals took the stage at Kansas State University's Forum Hall Tuesday, in order to hear four cases.
The three judge panel consisted of Judges Patrick D. McAnary of Overland Park, Anthony J. Powell of Wichita and Steve Leben of Fairway.  Riley County District Court, Judge David L. Stutzman replaced Leben on the last case, as it involved The University of Kansas, and Leben teaches there part time.
The first case came out of Finney County and involved a person's driver's being suspended following a DUI.  After the incident, the man stopped for DUI requested an administrative hearing.  The Kansas Department of Revenue's administrative hearing officer reportedly limited the time in which the man's attorney could question witnesses and concluded the hearing before he could testify.
Douglas Aldrich was convicted of second-degree murder for stabbing and killing Jerald Bird outside a Salina bar in 2003 and Aldrich was sentenced to more than 51 years in prison.  As Aldrich could not afford an attorney, one was appointed for him.  He complained that the attorney did not provide representation that met minimum constitutional standards.
The third case comes from Ellis County and also involves a DUI.  After being arrested, the man asked to be allowed to call an attorney-as they wanted to draw blood to determine alcohol consumption.  A Kansas law provides that after the completion of a blood or breath test requested by a law enforcement officer, the driver "has the right to consult with an attorney".  The officer requested the man call a bondsman instead-which he believes violated his rights.
Engineering Professor at The University of Kansas, Albert Romkes challenged the decision of the university to deny tenure to him, during the last case.  Romkes contends that the university applied a tenure requirement to him that was not officially adopted or provided to him in advance.
None of the cases resulted in a verdict, and rulings will be taken on these cases in around 60 days.