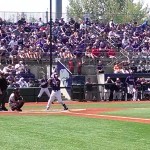 Three different Oklahoma State players hit home runs and that proved to be the difference as the seventh-ranked Cowboys held on to defeat Kansas State 6-4 in Big 12 Conference action before a sellout crowd of 3,192 Saturday afternoon at Tointon Family Stadium.
The Wildcats after being shut out in the series opener on Friday night 8-0 got on the board early Saturday when R. J. Santigate beat out an infield hit as Cowboys first baseman Tanner Krietemeier couldn't keep his foot on the bag allowing Carter Yagi to score from third base. Oklahoma State put their power on display in the second inning when Zack Fish and Connor Costello hit home runs off K-State Starter Jake Matthys (2-4) for a 2-1 lead. The advantage for the Cowboys grew to 4-1 in the fifth inning when Dustin Williams hit a two-run shot to right-center field. Two more runs crossed the plate in the inning when Saulyer Saxon scored on a throwing error and Tim Arakawa drove in another run with a single.
The Wildcats however would come off the mat in the bottom of the fifth with three runs of their own. Santigate drew a bases-loaded walk, Austin Fisher hit a sacrifice fly and Max Brown scored on a throwing error by Arakawa to cut the deficit to 6-4. K-State would have a couple of more chances but their best opportunity was in the bottom of the ninth when the Wildcats loaded the bases with two outs before Brendan McCurry struck out Tanner DeVinny to end the game and sent K-State to its eighth straight loss in conference play.
With their hopes of making the Big 12 Tournament getting slimmer by the day, K-State will look to salvage the final game of the series on Sunday when Nate Griep will take the hill in a 1 p.m. first pitch.
Stay connected to all things KSU on the go just text EMAW to 88474
For full video wrap-ups, including analysis, highlights, coaches & player interviews of K-State Football & Basketball check out PowerCatGameday.com