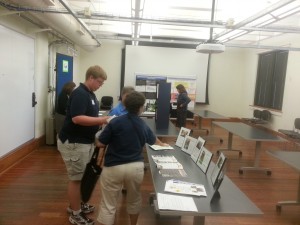 Over one hundred and thirty people, all with an interest in sustainability, gathered in the auditorium of Seaton hall on the campus of Kansas State University today to learn about sustainability, as well as to discuss how to move it forward into the future. According to Myles Alexander, who is the Program Coordinator for the Institute of Civil Discourse and Democracy, there are two main topic the event was focusing on. The first focused on the reduction of greenhouse gas emissions to meet adopted standards, and the second dealt with community sustainability and resilience.
Director of Sustainability at K-State Dr. Ben Champion added that these topics, as well as a few others would be discussed in the morning sessions, during which several speakers will address attendees on what is being done, as well as what could be done in the future.
The afternoon was devoted to several breakout sessions during which participants could brainstorm and come up with different ideas on how to best further the cause of sustainability. Several groups at the event were given a chance to showcase their efforts promoting sustainability with creative displays. Noni Strand of Bethany College was part of one of these groups, and she says that she has found that this event is an excellent place to network with others and to find new was to be sustainable on her campus. Those efforts, she added are student led and student centered.
This is the eighth year this event has been held during the summer on campus.