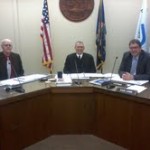 Riley County's public works and parks departments have been popular discussion on items on previous county commission agendas. Approvals for different projects and adding/eliminating staff are some of the issues the commission often discuss.
During Thursday's meeting, Human Resource Manager, Cindy Volanti came forward with a proposal to add a Parks Facility and Grounds Tech 1 position to the parks department. There are currently 13 seasonal nine month positions budgeted for the parks and public works department. These positions are difficult to fill, as many people want full time benefits for working a nine month period. For this reason, only six of the 13 positions are currently being utilized at this time.
Volanti said the proposal is to eliminate two of the season positions and include the grounds tech position, which would be an estimated $23,000 in savings.
Commissioner, Robert Boyd stated "I am not in favor of a full time employee at this time". Public Works Director, Leon Hobson disagreed with many of Boyd's statements, and said projects have already been budgeted, but they do not currently have the manpower to complete them.
Boyd and Hobson went back and forth with differing opinions, as Boyd said he believed this is not the time to hire full time before figuring out the budget cuts coming from the state.
Commissioner, Ron Wells and Commission Chair, Dave Lewis seemed to be more in favor of the position, as they realize the need for full time is there, and it is hard to hire seasonal help.
Boyd made a motion to revisit this issue in August. After making the motion, Budget and Finance Officer, Johnette Shepek quickly reminded the board, the position would not be budgeted into 2014 if it is revisited in August.
The motion was unanimously approved. Lewis commented that Leon's proposal makes sense, but Robert and Ron haven't been through the budget yet, and it is still unsure what will happen at the state level.
——————
Bids were opened for the University Parks sewer cleaning and inspection project. Three bids were submitted for the project, which read as follows:
-A-1 Sewer and Septic Service from Merriam, KS-$99,348.88
-Ace Pipe Cleaning, Inc. from Kansas City, MO-$144,937.50
-Mayer Specialty Services LLC from Goddard, KS-$223,243.75
All of the bids were approved to be submitted for staff evaluation and recommendation.
——————
Numerous other items on the agenda were improved, including- the 2013 Noxious Weed Management Plan, the moratorium for digital on-premise signs, and the public hearing for county road vacation for new Union Pacific Railroad right-of-way on K-18.
Budget requests will be heard in the afternoon from eight individuals, including-Budget and Finance Officer, Johnette Shepek, District Court Judge, Meryl Wilson and County Appraiser, Greg McHenry.