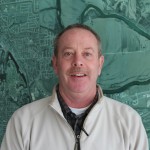 Eddie Eastes has been named the new Director of Parks and Recreation for the City of Manhattan. Ron R. Fehr, City Manager for the City of Manhattan, announced the appointment today. Eastes was selected from an initial pool of more than 55 applicants identified through a national search and chosen from four finalists who went through an extensive interview and assessment process. A public reception was held for members of the community to meet the finalists on November 4, 2013.
Fehr said, "I am pleased to announce the promotion of Eddie Eastes as the Director of Parks and Recreation. He brings a wealth of professional experience and knowledge of local conditions, strengths and needs regarding recreation and sports programming and facility needs, along with the many other important functions of Manhattan's comprehensive Parks and Recreation Department. Eddie has strong commitment to advance the Parks and Recreation Department to a higher standard of service and accountability. He will be an asset to the City's management team in his new role, to the community and region, as well as to provide effective leadership to meet the current and future needs of our community parks and recreation activities, while ensuring the high quality of life that our community expects."
Eastes will assume his new position effective immediately and will be responsible for overseeing the City's recreation programs and facilities; implementing the park development and maintenance plans for more than 700 acres of parks, 32 sports fields, more than 10 miles of trails, three outdoor pools, including an aquatic facility and splash park, nine tennis courts and 10 park shelters; an ice skating rink; two cemeteries; an AZA-accredited Sunset Zoo and Zoo Education Center; the Flint Hills Discovery Center; City Auditorium, Wefald Pavilion, Community Building, historic UP Depot, Douglass Center and Annex; and the T. Russell Reitz Animal Shelter.
"I am extremely proud to be part of a Parks and Recreation Department that has such a positive impact on our community," Eastes said. "This is a great opportunity for me to increase my responsibilities with the City of Manhattan, and I look forward to engaging with our citizens and expanding quality recreational programs and facilities for our stakeholders."
(news release from City Link-Manhattan,KS)