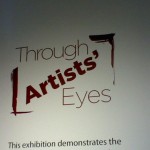 44 premier artists from around the world, some of them from Kansas, submitted paintings and sculptures for the Through Artists' Eyes exhibit at the Flint Hills Discovery Center.
The exhibit marks the first partnership between the Strecker-Nelson Gallery and the discovery center.  Owner of the gallery, Jay Nelson commented, "I represent all of these artists in my commercial gallery, and each one has a very individual vision of the flint hills.  Some of them go out and paint together.  They can stand side by side and paint the same scenery, and you end up with two completely different paintings."
KMAN spoke to various artists, during the media blitz for the show, held Wednesday morning, including Susan Rose.  Rose currently resides in Manhattan and draws her inspiration from taking photographs everywhere she goes.  She then takes the photos back to her studio and collaborates them into drawings.  Both of Rose's pictures, one acrylic painting and one oil painting, feature native birds in there natural habitats.  " The inspiration is being out there and seeing the animals and the light", Rose said.
The center's upcoming Family Day (September 29th) offers members of the public a chance to come view the exhibit, as well as the rest of the center, for free.  The show will run until January 5th.