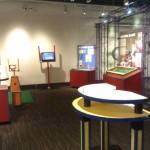 Members of the media had the chance to view the new Football exhibit Wednesday morning at the Flint Hills Discovery Center.
Football is a 3,000 square foot exhibition that introduces visitors to the science, mathematics, and technology behind the game.  It features nine different zones, each addressing a different aspect of the game.  Some of the zones focus on areas such as:  running speeds, reaction time, catching a football, throwing a football, balance, and the physics of tackling.  Some of the activities visitors can participate in involve:  throwing a football through a tire, testing your grip, and using your peripheral vision.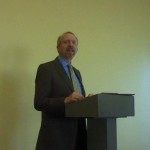 Discovery Center Director, Fred Goss said the exhibition is a new way to look at and experience the unseen forces that impact the game.  Goss added, "it's a great way to introduce a very popular truly American game to the wide variety of fans".
Education Specialist for History and Culture at the Discovery Center, Travis Young was present during Wednesday's Media Blitz opportunity, and demonstrated the various zones.  After trying every activity, Young told KMAN the sprinting activity is the hardest in his opinion.
Football kicks off Saturday, and will run through June 1st.