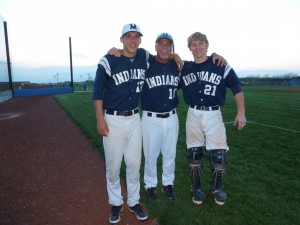 (From Left to Right: Henry DeNoble, Head Coach Don Hess, Josh Mullin)
Not only did the Manhattan High Baseball team sweep Washburn Rural Tuesday in Topeka. They exceeded new heights by making some history in the process. In game one the Indians won 2-0 behind a no-hitter thrown by Henry DeNoble. Tribe head coach Don Hess also picked up his 300th career victory. Hess believes that the seven inning no-hitter was the first ever thrown in MHS history.
The solid baseball played by the Indians continued into game two with a 2-1 win in twelve innings. With the two wins, the Tribe improve their overall record to 12-5 with a centennial league record of 11-5. The Indians will close out the regular season Thursday with a doubleheader at Topeka West.