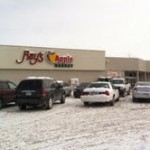 Ray's Apple Markets is announcing the closing of its downtown store at 222 North Sixth in Manhattan after eight and a half years. Owners Mike and Nelda Floersch indicate a liquidation of inventory will begin on March 12th and will continue until the inventory is depleted, at which time the store will be closed.
Some employees will be transferred to Ray's Apple Markets' west location at 3007 Anderson in Manhattan.
The owners indicate while neighborhood support for the downtown store has been good, it has diminished with changes in Manhattan and where there has been a significant change in the retail landscape.
KMAN has an interview scheduled with Mike Floersch later Wednesday afternoon.