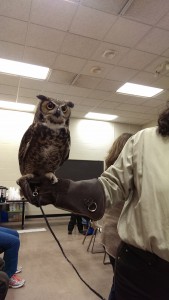 The U.S. Army Corps of Engineers at Tuttle Creek Lake sponsored its 26th annual Eagle Day, Saturday morning.
The event began at the Manhattan Fire Station Headquarters with an overview of eagle nesting in Kansas, followed by a live raptor program featuring live hawks and owls.
Eagle day concluded with a bird-watching bus tour through Tuttle Creek State Park. The tour was guided by knowledgeable bird watchers/handlers from the Northern Flint Hills Audubon Society, U.S. Fish & Wildlife Service and Milford Nature Center.
When the Government adopted the Bald Eagle as our national symbol in 1782, there were as many as 50,000 nesting pairs in what is now the lower 48 states. However, in 1967, the Bald Eagle was declared an endangered species with only 2,000 birds and roughly 417 nesting pairs remaining. Since then, the Bald Eagle population has made an incredible turnaround and has grown to 35,000 birds and more than 10,000 nesting pairs.
"Up until 2007, the Bald Eagle was a Federally Listed species and so we've been tracking and monitoring the populations here in Kansas, especially when they started nesting here in 1989. They're now off the list, but we're still post-list monitoring and just trying to keep track of populations and figuring out how the numbers are going up or down." said Dan Mulhern, U.S. Fish and Wildlifebiologist.
Strict EPA regulations, habitat improvements and other Federal protections have all contributed to the rapid growth in the Bald Eagle population. And according to Mulhern, our national bird should be around for years to come.
"It is off of the Endangered Species list, but as far as the Migratory Bird Treaty Act and the Bald and Golden Eagle Protection Act, those laws will probably go on forever."
A record 54 bald eagle nests were documented in Kansas last year.
Additional sponsors include the Kansas Department of Wildlife,  Parks and Tourism (KDWPT), Manhattan Convention and Visitors Bureau and the Tuttle Creek Lake Association. Similar eagle programs will be conducted at Milford and Perry reservoirs in January. Contact your nearest USACE or KDWPT office for details.