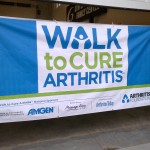 The Walk to Cure Arthritis raises funds every year, as well as awareness, to fight the nation's leading cause of disability. The event takes place in several different locations throughout the nation every year, and Manhattan held a walk on Saturday.

The event features a three-mile and one-mile course, with arthritis information and activities for the entire family.
Chiropractor, Brett Shaw and representatives from Juice Plus were some of the many people handing out information in Manhattan City Park's Wefald Pavilion.  Volunteers, including members of the Kansas State University women's basketball team, were also on hand to help with registration.
This was the eighth year for the event, and it has grown over time.  During the first year, only around ten participants took place in the walk.  This year, the goal of the event was a fundraising mark of $36,600.  As of Saturday morning, the group had raised over $29,000.
Two individuals were featured for this year's event:  youth honoree-McKenzie Shoff and adult honoree-Courtney Smith.