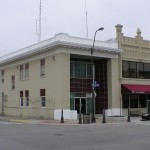 Wamego's Julie Drive project raises a citizens concern. At Tuesday's City Commission meeting, City Manager Merl Page introduced homeowner Jeff Adams, who resides in the Julie Drive neighborhood. He said during the street re-do, sidewalks were placed on the inner circle of the horseshoe, and driveways were replaced as part of the project. He said his driveway was finished with a 30 degree slope that is causing damage to his vehicle when he tries to back his trailer onto his property. He was told by City staff that the City is not liable for damage to his vehicle. He submitted pictures for the Commissioners to review.
Page said the City needs to go out and look at the situation in order to come up with a possible solution. Once this is done they will present a formal recommendation for the Commission to look over.
In other business, the Commission accepted the resignation of Bridget Darey from the Library Board. According to Page, Darey has served on the board for many years, and will be sending a letter of appreciation to her.
Wamego authorities  took  action on some last minute items.  Page said there were no public comments submitted after publishing the budget amendment for the Power Plant Expansion revenue bond issue of 1.1 dollars. He said the bond proceeds were received and need to be expensed in the 2013 Electric Fund Budget.
In other business, Page requested formal action from the Commission to authorize the Mayor to sign the Memorandum of Understanding with the Kansas Corporation Commission (KCC) for the Energy Efficiency Grant discussed at the last meeting. Authorization was given.
Also, the Commission approved a supplemental agreement from the Kansas Department of Transportation (KDOT) for the 24 Highway Corridor Management Grant. The new agreement removed the language that the grant would be subject to a federal audit.
Wamego's contract with Westar will undergo minor changesl Page said he'd received notice from Westar that they would be doing a Section 205 Filing on the City's contract. Page said it was only a procedural thing because of the Southwest Power Pool, which Wamego is a member of, will go live on March 1st, and the City's contract with Westar expires on March 31st. He said this Section 205 filing will allow Westar to manage the power loads in that 30 day window, and will have no material impact to the City of Wamego. A motion was made and approved to sign the Letter of Concurrence with Westar.
In other business, Page said there has been some public concern about letters homeowners have received from a company called Home Serrv, which sells insurance covering water main breaks. The Commission wants the Public to know  this is not something endorsed or mailed out by the City of Wamego, and encourages homeowners to check out the company with the State Insurance Commission.