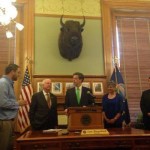 As KMAN has previously reported, Governor Sam Brownback signed HB 2506 Monday, which addresses school funding.
Before signing the legislation, Manhattan Ogden USD 383 school board member, Aaron Estabrook presented the governor with nearly 3,000 signatures of Kansans that asked him to not sign the bill, in order to keep due process rights for teachers.
Despite Estabrook's attempt, Brownback still signed the bill.  KMAN spoke to Estabrook, and the entire interview can be found below.