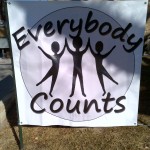 A wide array of services were available for local homeless families during the Everybody Counts event held Wednesday.  This was the first day of the two day event.
Participating organizations included-Pawnee Mental Health, Riley County Health Department, Riley County Extension, KanCare, Konza Dental, the Riley County Police Department and the Ogden Friendship House.
Dental exams and doctor visits were among some of the several opportunities for visitors to participate in.  Additional healthcare and medical information was available for individuals after their screenings.
Food and clothing items were available, as well as lunch and dinner.  Several cots were set up in the basement of the Harris Activity Center for people needing a place to stay that night as well.