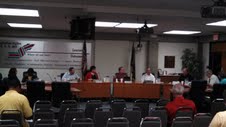 As part of Wednesday night's Manhattan Ogden school board meeting, the topics for the Fall retreat were decided.
The board agreed upon examining both the Manhattan High School East project and the College Hill Facility project.
Curt Herrman, Board President, also mentioned there may be a topic to tackle in the spring, but they'll come to that later if needed.
The Fall Retreat is scheduled for October 23 beginning at 5:15 pm.
During their meeting, the board was informed that all schools in the district have begun their emergency safety drills, which include fire, tornado, evacuation, lockdown and reentry if anything should happen while outside of the building.  Anthony Middle School is going through their drills this week.
The board also saw the numbers for homeless children and youth in the district and the numbers have increased since 2006.
The history of homelessness in the district has grown from approximately 25 in 2006, to 71 in 2007 and up to 239 for last year.  This year the projected number is to reach 250 and according to Stan Ward, Coordinator of Federal/State Funds and Grants, this is only about half of the students that are in need.
The board will also be examining the prospect of adding to the 7th grade football program sometime in the coming months.