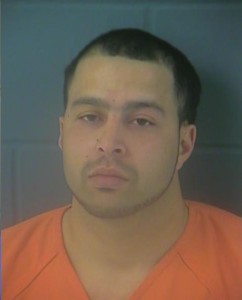 The Junction City man charged in the shooting death of Crystal Fisher (25), almost exactly four years ago, will be sentenced soon.  A federal jury returned a verdict Thursday convicting Marcus Roberson (32) of murdering the woman to keep her from giving information about his drug trafficking to federal law enforcement officers.
Roberson faces one count of murder, one count of conspiracy to distribute crack cocaine, and one count of conspiracy to distribute powder cocaine.
Prosecutors presented evidence during the trial, that Roberson lured Fisher to a location near an alley in central Junction, where he shot her four times with a .40 caliber pistol, at close range.  Her body was found seated in the driver's side of her vehicle, and the murder weapon was found in a pond behind a Walmart in Junction City. Prosecutors also presented evidence of Roberson's involvement in a drug trafficking organization that distributed powder and crack cocaine in and throughout the Junction City area.
Sentencing will be set for a later date. He faces a maximum penalty of life imprisonment on the murder count as well as the drug counts, and a fine of up to $10 million on each of the drug counts.
Seven co-defendants are listed in connection with this incident, one of which who has already been sentenced to 20 years in prison.