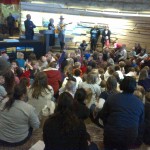 Several local preschools, and other children, attended Wednesday's Kansas Day Celebration at the Flint Hills Discovery Center.  Center staff members led state-themed activities throughout the building.
Kids had the opportunity to cut, paste and color in the arts and crafts room, as they made Kansas flags.  An ornate box turtle was available to view in another room as well.  The ongoing "Football" exhibit was available for children to test their athletic skills.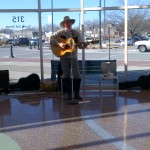 Entertainment was provided by singing cowboy, Dave Zerfas, who lives just north of Manhattan.
The official Kansas birthday party was held at 10:30 that morning.  Discovery Center Director, Fred Goss introduced City Commissioner, Karen McCulloh who spoke briefly to the children.  McCulloh shared facts about Kansas, and explained what life would have been live a couple hundred years ago.
The birthday party concluded with cupcakes for the children to commemorate Kansas's 158th birthday.