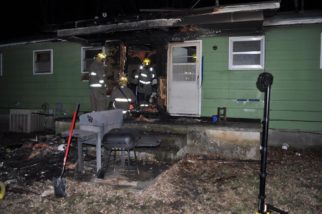 Riley County Firefighters responded to a structure fire in Ogden at around 11:38 pm Saturday. Riley County firefighters from the Ogden, Keats, Konza Valley, Hunters Island, Manhattan Fire Department and Ft. Riley stations were called to the fire at 201 Eleventh Street in Ogden.. It was reported the duplex was fully engulfed. MFD station 4 arrived first and knocked down the initial fire in the kitchen area.
All the occupants were outside at the time of the fire. It took firefighters about 3 hours to put out the blaze and overhaul the burned area. The fire was believed to start as an electrical short in the attic above the kitchen door.. The fire resulted in approximately $25,000 damage to the structure and $2000-$3000 lost contents.
In total 22 firefighters, one police officer and a two person ambulance crew responded to the call.
The home is owned by Pam and Jim Wood and the occupant/tenant was Michael Turner. The occupants were being assisted by the Topeka Chapter of the American Red Cross.
And an outside fire apparently caused some problems Monday evening. Motorists were urged to avoid North 52nd and West 59th Street as emergency crews worked an outside fire at about 5:30 p.m.Fire Chief Pat Collins indicates the fire burned over to Tuttle Creek Blvd in about 5 minutes and started from an electric pole arcing. The stretch of road was re-opened about an hour later.