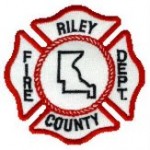 Updated 10:30 a.m. Tuesday:
A fire in far northern Riley county sounded a lot worse than it actually was Tuesday morning. Riley County Fire Chief Pat Collins indicates the first report was that the entire home was on fire, but on arrival it was discovered the fire was confined to a furnace. Damage was pretty minimal, with about a thousand dollars damage to the furnace plus some smoke damage.
The fire was in the 16,ooo block of Fancy Creek Road. The owner of the property is Rhonda Nelson. Collins tells KMAN there was a fire in the same location a year ago. The person living there now is Anderson Montgomery–he, his wife, and child were able to get out of the structure without injuries.
20 firefighters from seven stations responded, with Green in Clay County also assisting. A smoke detector was going off as firefighters arrived. Collins indicates crews were on the scene for about two hours, with the fire reported shortly after 8 a.m.
###
Riley County Firefighters have been called to a structure fire on Fancy Creek Road, in northern Riley County. The fire is in the 16,000 block of Fancy Creek. No further details are available at this time, but several fire departments are being called in to assist.